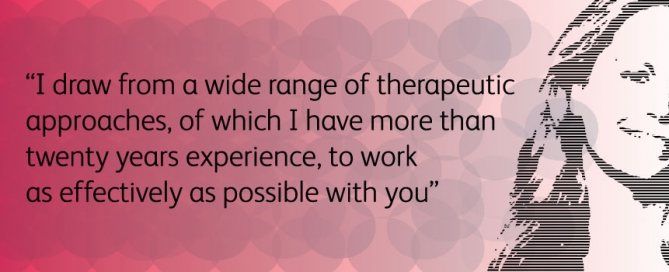 Experience
I am an experienced and qualified practitioner, covering a wide range of skills, with an established practice in Central London. I have more than twenty years experience in the field of mental health.
Workplace counselling is one of the key areas I have been involved in since 1989. I began my career as a crisis counsellor with British Airways and was appointed manager and clinical supervisor of the Crewcare counselling service in 1996, dealing with post-traumatic stress and work-life balance. I left British Airways in 2009 to develop my private practice.
Eating disorders
Eating disorders are one of my areas of special expertise; I have worked one-to-one with men and women of all ages with eating problems since 1992. For five years I facilitated a support group for people with eating disorders at The Priory Hospital in Roehampton, London and I continue to promote the value of psychotherapy and counselling within this diverse and complex field.
I have been an affiliate psychotherapist and supervisor at The National Centre for Eating Disorders, Esher, Surrey, since 1992.
Mental health
I have practiced as a psychotherapist and yoga teacher at the Priory Hospital, Roehampton, London since 2007 and also, at the Recovery Centre, Knightsbridge, since 2009, working with a broad spectrum of mental health issues.
Training and coaching are also a special interest. I first studied coaching in the USA with Mick Mackenzie of Mackenzie International. I then studied coaching for mental health practitioners at Dr Stephen Palmer's Centre for Coaching in London.
Workplace counselling and coaching
I provided ongoing training and coaching for Inflight Services at British Airways from 1996 to 2010.
I worked as Counselling Supervisor at The Metanoia Counselling and Psychotherapy Institute, London and The Women's Centre in Harrow, North London.
Yoga and meditation
I have been committed to the practices of yoga and meditation since 2000, latterly in the Eating Disorders Unit of The Priory Hospital, Roehampton.
I believe yoga contributes fundamentally to aiding well being. I have been greatly influenced by and studied under yoga teachers John Stirk, Tias Little and Simon Low.
I have trained and worked closely with Pia Mellody at The Meadows Treatment Centre, Arizona since 2009. I maintain close links with this renowned facility and often work with individuals on their return to the UK, following their treatment there.